TRAVELERS REST — In a spare bedroom, two pottery wheels sit motionless. It's a rare sight as Hannah Webb and Maddi Meglic grow their small-batch ceramics business.
Their products sit on industrial shelves, ready to be fired in the kiln, glazed and then fired again. Each will be white, beige or some other neutral color, an intentional choice to keep their aesthetic timeless and functional. In the closet, a set of cream-colored dinner plates and bowls are ready for delivery to a couple about to be married. A new line of mugs awaits its debut.
The room is an upgrade from their former "studio" — a pottery wheel propped on their former apartment balcony. The two moved into the rental house in October 2021, about a month after they launched Maddi and Hannah Pottery.
They recently finished molding clay into vases, mugs and berry bowls for an upcoming farmers market.
At markets, customers sometimes ask, "Who made this mug?" They usually don't know. Both touch each item. Meglic might throw the clay. Webb could trim it. Meglic will attach the handles and Webb glazes.
"Everything is both of us," Meglic said. "We've always wanted to both be at a point where we can just pass pieces back and forth, and they end up looking the same. It's cool to finally feel like we're getting there to a degree, where people can look at things and not know."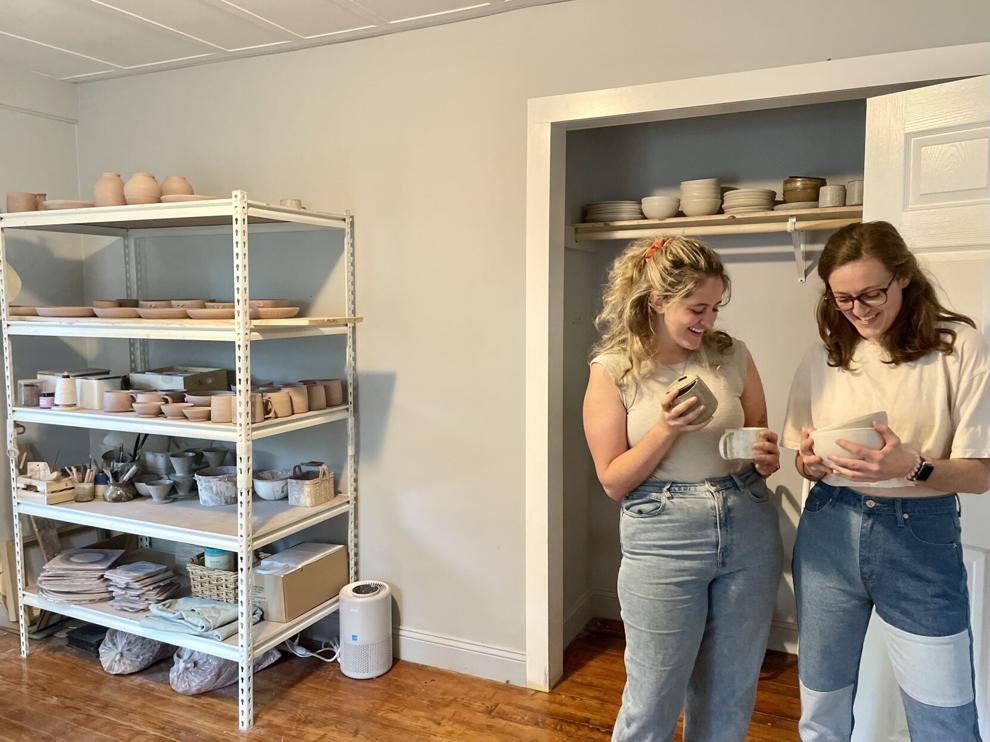 Molding a friendship
Meglic and Webb met about seven years ago through mutual friends when Webb attended Travelers Rest High School. Meglic was about to graduate from Eastside High School to attend the University of North Carolina Asheville on a soccer scholarship. The two became close, keeping in touch and growing their long-distance friendship.
The friends called each other regularly to catch up and they read through the Bible together. During the summers when Webb was on school break, they sometimes went to Sunday church. The girls camped, hiked and visited Harry Potter World in Orlando.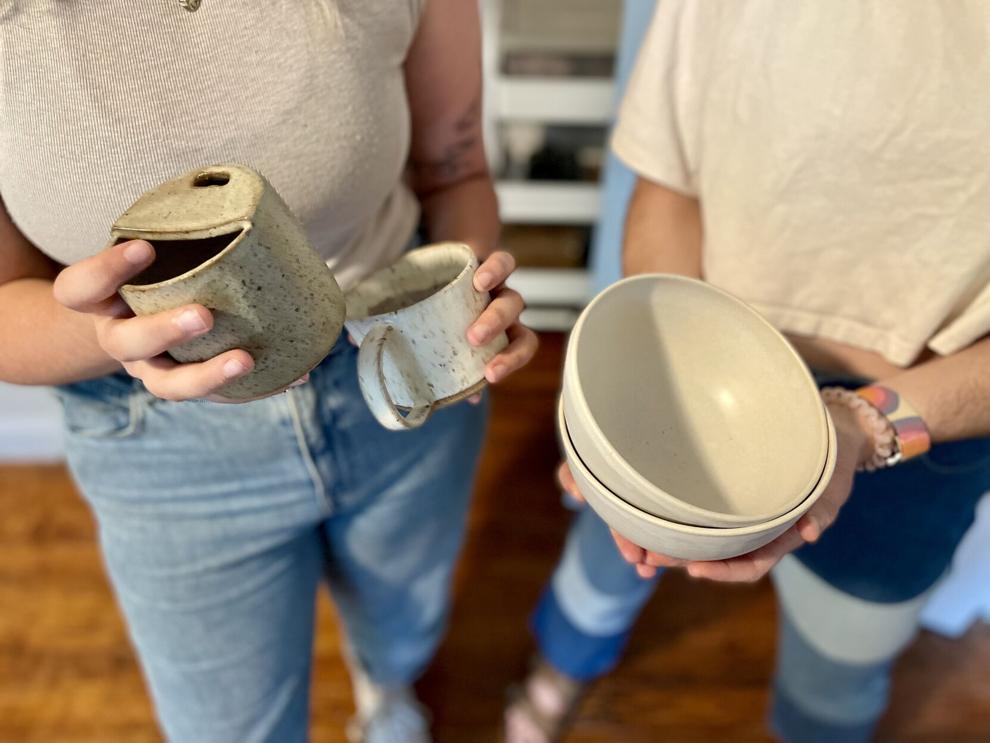 Each have their own past with ceramics. For Hannah, it dates back to when she was seven and her family moved from Greenville to Thailand for missionary work. It was there she saw the joy pottery could bring, including to her own family who would frequent a shop where a couple sold vases, mugs and more. Her family calls the items they've purchased from the shop "treasures."
When Webb was 15, her family returned to the U.S. and settled in Travelers Rest.
Meglic studied art in college, dabbling in several mediums before falling in love with pottery and specializing in it. After graduating in 2017, she returned to Greenville, temporarily pausing her pottery pursuits because of difficulty accessing the needed equipment and focusing on her work as a personal trainer.
Webb, a 2020 graduate from Nashville's Trevecca Nazarene University, was sent home to the Upstate due to the pandemic during her final semester. Webb and Meglic "did the lockdown together," Webb said. They painted Webb's parents' tiny home, planted a garden and binge-watched shows.
"We just really, I feel like, bonded even more throughout that season," Webb said.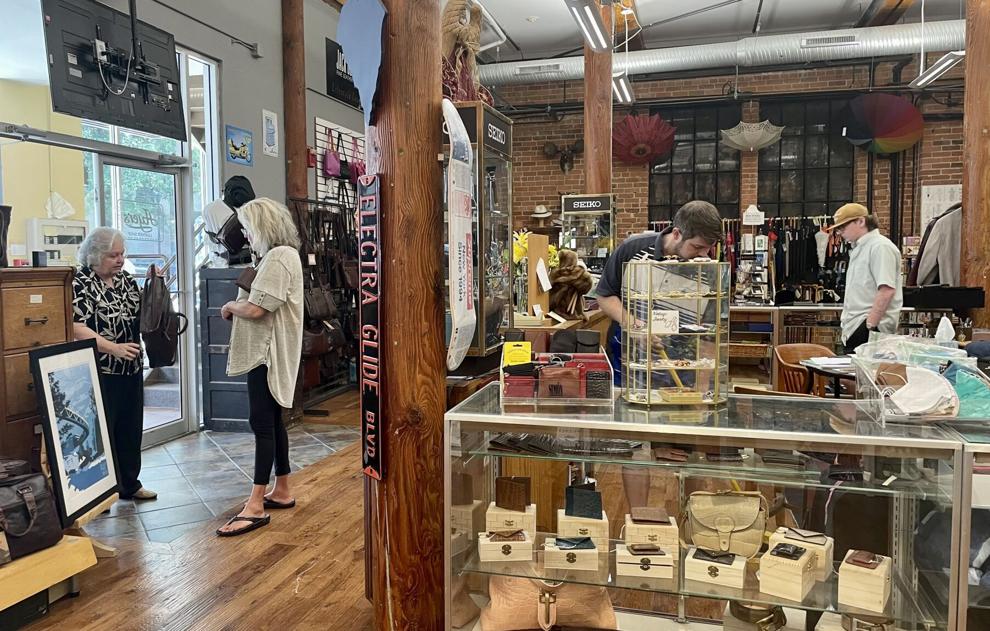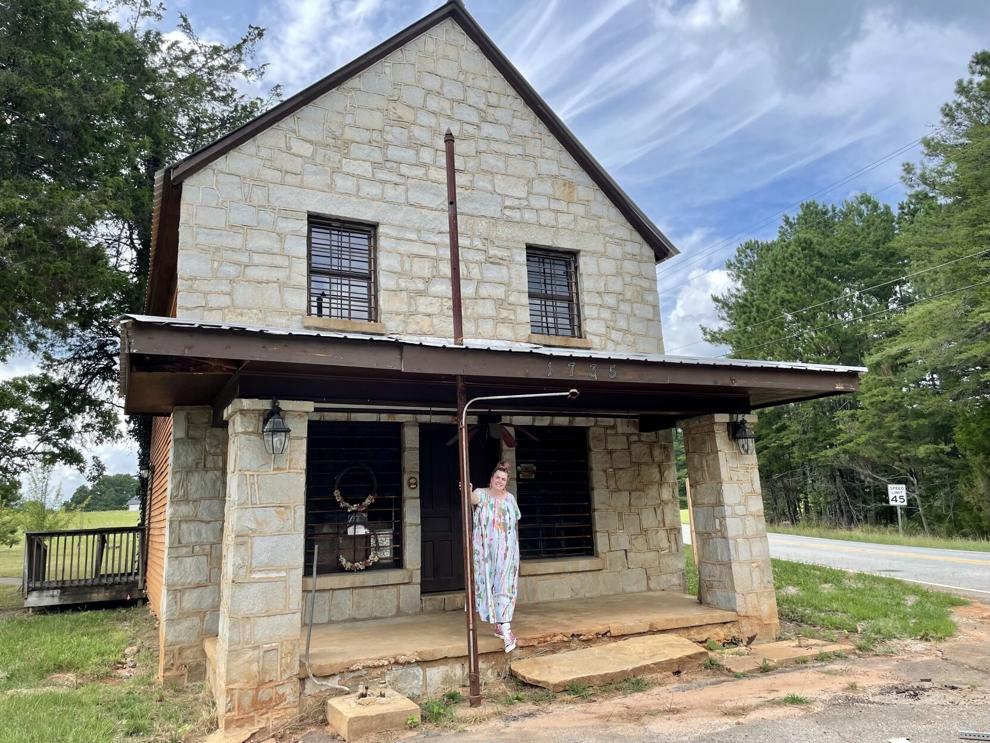 Hobby to small business
Both ended up back in Greenville after college and lived together during the pandemic. Their interests in pottery converged with Webb encouraging Meglic to pursue pottery, again.
"She was one of the biggest influences," Meglic said about Webb getting her back into ceramics.
"But, the goal at that point was far from a small business."
Meglic's mom bought her a membership in November 2020 to ceramics studio Hollowed Earth at Hampton Station west of downtown Greenville. It gave her access to pottery-making equipment.
Meglic eventually bought a wheel and the girls put it to use on their apartment balcony along Poinsett Highway. They lugged 15-pound boxes of clay up three flights of stairs and sweated in the South Carolina heat as they created.
Webb was drawn to the creation of pottery. She watched Meglic make item after item, learning the craft. It took Webb a while to make anything of her own, feeling shy and perfectionism squandering her self-esteem. She remembered only wanting to practice when Meglic was at work.
When Webb finally took to the pottery wheel May 2021, Meglic said she was a natural.
"I've never seen somebody pick it up so quickly," she said. "Some of the things that I made after taking three years of ceramics classes are worse than some of the things that she made after a couple months."
The duo stumbled into a small business shortly after. One of Webb's brothers runs Revival Butchery in the Village of West Greenville. He offered during the summer of 2021 to sell some of their mugs at his butchery.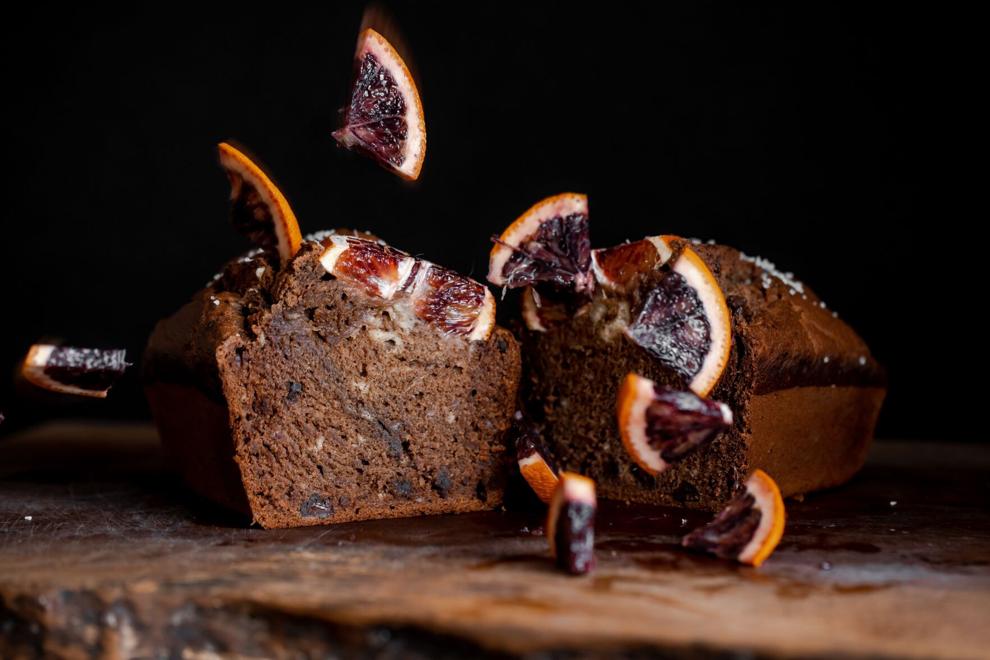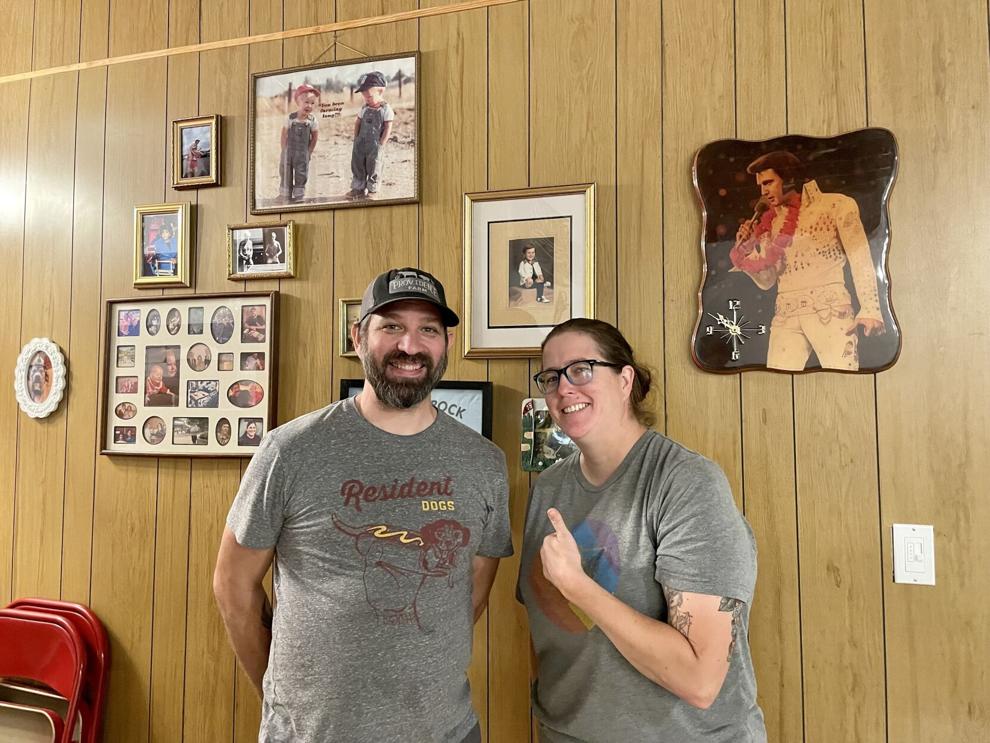 The swell of interest slowly expanded. They launched their Instagram in September 2021, and the following month moved into a rental house they share with a one-and-a-half-year-old golden retriever named Gilbert and two cats. They got their business license in March 2022.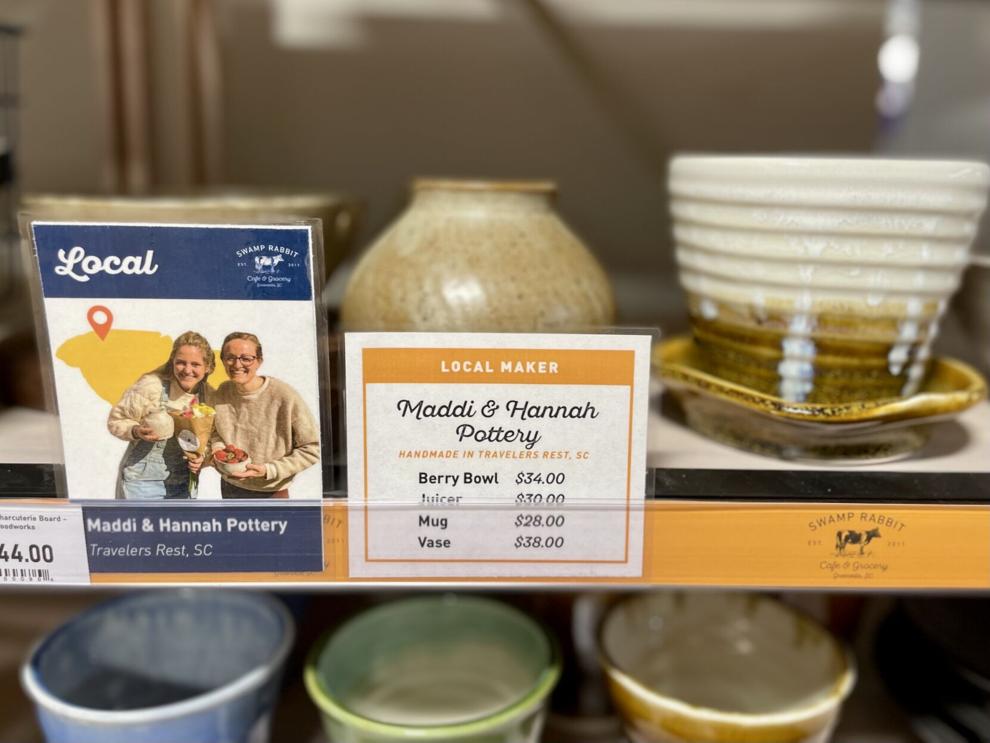 Swamp Rabbit Cafe and Grocer, on Cedar Lane Road just north of Greenville, sells their pottery. Meglic is still in disbelief to see their products sold at the grocery alongside the work of what she calls long-time established potters in Greenville.
Travelers Rest coffee shop Leopard Forest Coffee Company also used to carry some of their products. The owner of Pickens County's Sassafrass Flower Farm plans to carry their vases for her flower arrangement classes and at her farm's you-pick flower events. Meglic and Webb also run a booth at the Travelers Rest Farmers Market.
Early in the business, the two bought their own kiln that stays in the garage at the home of Webb's parents.
For now, they're a custom order business. They used to be shocked when they received an order for 10 mugs. Now, they are filling orders for 50 vases. They want to build up an inventory but it's difficult to keep up with orders. On the Fourth of July, Webb started making ornaments for the winter holidays.
"It's a good problem in a way," Meglic said. "We're grateful for the exposure and the business and the support, but at the same time, it'd be nice for once to have like, 'You want a mug, here's a mug.'"
Webb still has a part-time job teaching preschool. Meglic has considered scaling back from her full-time job to focus on pottery.
Looking to the future, they bought land between Travelers Rest and Marietta with hopes in a few years to build a stand-alone studio.
"We'll probably end up in this area for a while," Meglic said. "That's the game plan."